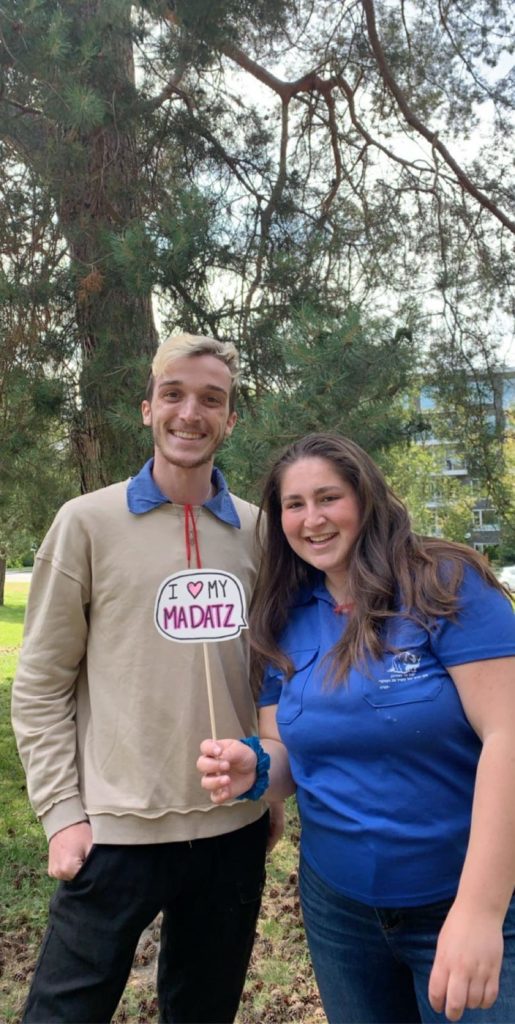 Summer 2020 is a unique one in Habonim Dror North America history, with machanot meeting virtually or for day camps during the coronavirus pandemic. We're asking our dedicated madrichimot what it's been like to continue to #LeadTheHaboWay during this unprecedented time. 
Why did you choose to be a madrichol this summer? 
Rachel, Shani and I chose to be madrichimot for the madatz at Miriam in a summer that we thought would be ideal and normal. These choices kind of seemed natural as the next steps we wanted to take in the movement but the harder choice that we didn't think we were making when we signed up to do this, was to be madrichimot during a crisis..This required a second choice to reaffirm ourselves to not only choose to be madatz madrichimot but also to try and be madatz madrichimot without knowing exactly what the summer is going to look like…In the end we chose it and we chose it because we knew that specifically at Miriam we had a huge opportunity to create an experience for our chanichimot that not a lot of other machanot in the movement were able to create. 
How does it feel to meet chanichimot during this specific summer? 
In a lot of ways we weren't ready to make a new madatz experience and tochnit at the same time as the summer was happening with changing health restrictions and plans, but the most important thing for us was that we understood that we were forging a new path. Not only were Rachel, Shani and I forming a new tochnit based around a completely different structure, but also our chanichimot were choosing to throw themselves into an experience that they had no idea what it was going to look like. In a lot of ways this was frustrating, but it really showed to us that these chanichimot were committed to be chalutzimot. Even if they didn't one hundred percent understand what being chalutzimot meant, our chanichimot, the madatz kvutza, were being chalutzimot just by choosing kvutza and wanting to be madatz during this summer. I think that it was really incredible to meet chancihimot in this way. Albeit, we had smaller numbers because of the situation, but the ones who were able to make it were choosing to do something incredible. 
Describe a peula you ran where you felt like you were making a difference for the chanichimot.
The last peula we ran for Madatz was about what it means to be doing hagshama that is applicable to them. I think that what the chanichimot understood from this peula was that they wanted to choose to be in kvutza and they want to choose to be movement leaders even if they might not exactly know what that is supposed to look like and when the situation is so hard. I think they understood that, actually when you are choosing to be madatz you are choosing to be chanichimot and choosing to learn to lead in any situation. These madatz learned not just how to go through "the run of the mill" experience but they learned that choosing kvutza is something that transcends just being at machaneh. Even if it was hard and even if we feel like we didn't "get all of the boxes checked" of what the madatz experience usually is, I actually feel really confident that these madatz are future leaders because they know what it means to be choosing to lead the movement when the movement is not certain and their place in the world is not certain. And this is quite powerful and very inspiring.