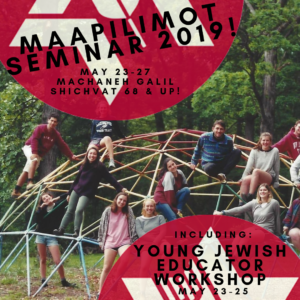 Ma'apilimot Seminar Registration is still open! 
If you are in Shichvat 68 and older, you are invited to come to HDNA's Maapilimot Seminar. We will continue

the

 conversations that were started at Veida, prepare together for 

the

 summer, and have some classic seminar kef.
General Information 
Participants:

Shichvat 67 and older (18-24 years)
Tuition:

215 USD for Americans, 160 USD for Canadians
Please contact maapilim@habonimdror.org with any questions.