Machanot Kayitz — מחנות קיץ
Habonim Dror machanot (summer camps) provide children ages 8 – 17 with a unique camping experience. Based on the model of a kibbutz, each machaneh (camp) creates a close-knit community based on Jewish ideals of collective responsibility, respect, equality and friendship. A wealth of activities, programs and scouting events are offered at each machaneh: from arts and crafts to Hebrew songs and rikud (Israeli dancing); a full sports program to nature study. Campers will grow physically, emotionally and intellectually in a creative, open and caring environment. Habonim Dror has been providing a machaneh experience since 1932.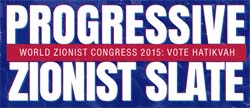 NEW YORK (Press Release)–The U.S. Area Elections Committee chair has found that there is no basis for the request made by the ZOA to disqualify the Hatikvah progressive Zionist slate, established for the upcoming World Zionist Congress elections in the United States. Ironically, the ZOA is attempting to delegitimize the ideological heirs of those who established the state of Israel and since that time have helped sustain the Zionist dream. Ameinu, Partners for Progressive Israel, Habonim Dror and Hashomer Hatzair, the organizational members of the Hatikvah Slate, have presented a platform that represents today's mainstream peace and democracy camp of Israel.  Read more …..
Support Habonim Dror
HDNA is a 501(c)(3) non-profit
Receive the HDNA Newsletter