WE'RE HAVING ISSUES WITH OUR PHONE SYSTEM. IF YOU CANNOT GET THROUGH, PLEASE EMAIL US INSTEAD.
Machanot Kayitz — מחנות קיץ
Habonim Dror machanot (summer camps) provide children ages 8 – 17 with a unique camping experience. Based on the model of a kibbutz, each machaneh (camp) creates a close-knit community based on Jewish ideals of collective responsibility, respect, equality and friendship. A wealth of activities, programs and scouting events are offered at each machaneh: from arts and crafts to Hebrew songs and rikud (Israeli dancing); a full sports program to nature study. Campers will grow physically, emotionally and intellectually in a creative, open and caring environment. Habonim Dror has been providing a machaneh experience since 1932.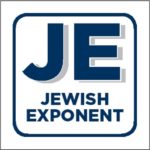 By: Amishai Gottlieb, © 2014 Jewish Exponent
Anyone who happened to pass by the library at the Jewish Community Services Building in Center City on Nov. 13-14 was virtually transported to Rabin Square in Tel Aviv.
In memory of the anniversary of former Israeli Prime Minister Yitzhak Rabin's murder on Nov. 4, 1995 by a right-wing Jewish activist, three Habonim Dror youth movement counselors — all college-aged — set up an exhibit in honor of the late leader.  READ THE FULL ARTICLE
ABOVE  Dan Shahar (right) does a trial lecture for fellow exhibit leaders (from left) Adi Goldberg, Hila Huber and Ross Weisman. Photo by Amishai Gottlieb.
Support Habonim Dror
HDNA is a 501(c)(3) non-profit
Receive the HDNA Newsletter